My family wanted a highly functional computer workstation that blended with their existing decor (read: lots of white-oak
Big Sur
tables). It needed to accomodate a desktop computer, printer, scanner, shredder, networking and storage equipment including about 1000 CD-Rs. All cables must be hidden.
The workstation would be bar height (42" high) so it could be used while sitting or standing, and extend to create a social area in previously underutilized space.
Design
The idea was honed and refined in a simple CAD model until all requirements were adequately met. Ergonomics were a key concern, and multiple full-scale mock-up tests were conducted to determine comfortable dimensions for railings and overhangs.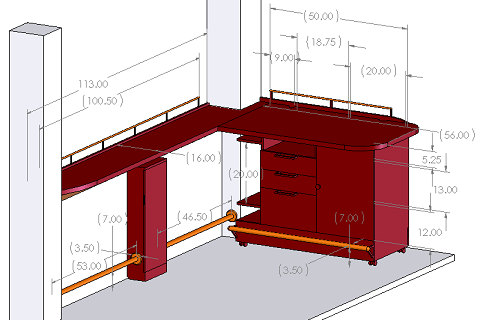 A LEGO mock-up was made to examine edge-case usage scenarios: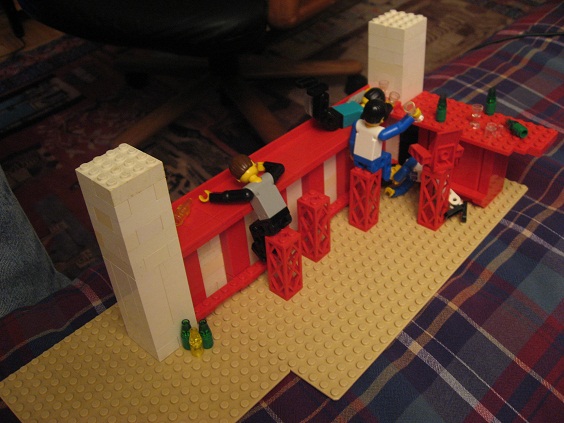 A novel hide-away keyboard mechanism was considered to complement the minimalist aesthetic, but ultimately prove too complex and unnecessary.
The details of the design took a while to iron out, and many entities had to be coordinated. Railing manufacturers, metal treatment facilities, specialty drawer slide distributers and a reliable carpenter (Art Frames Furniture in Brooklyn, NY) were researched and contacted.
Construction
The workstation was built off-site. The distinctive, 1.5"-thick counter-top is visible here: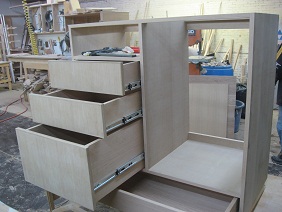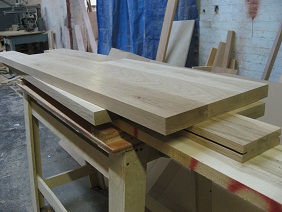 Final assembly is done on-site:
Result
The project was a huge success, turning a messy home office into the de facto family computer and technology hub of the entire apartment.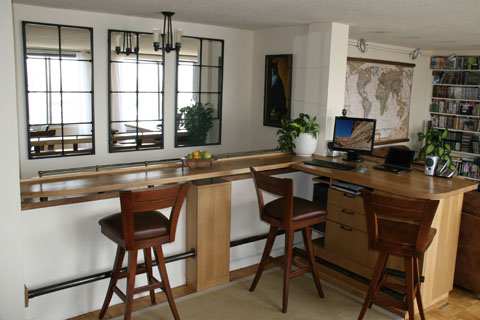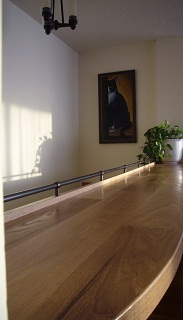 A lighting system was installed, triggering automatically when the door is opened.